On September 27th, the National Committee on American Foreign Policy hosted Lt. Gen. (Ret.) Karl W. Eikenberry, former Ambassador to Afghanistan, to introduce the U.S. Security in the 21st Century Series Annual Lecture. This lecture is entitled "The Militarization of U.S. Foreign Policy."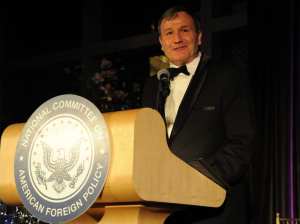 Ambassador Eikenberry accepting the George F. Kennan Award for Distinguished Public Service at the 2012 National Committee Gala Awards Dinner.
To view Ambassador Eikenberry's biography, please click here.
Thursday, September 27, 2012
The Union Club
5:30 PM Registration
6:00 PM Lecture
For questions on this or other NCAFP events, please contact our office at (212) 224-1120.