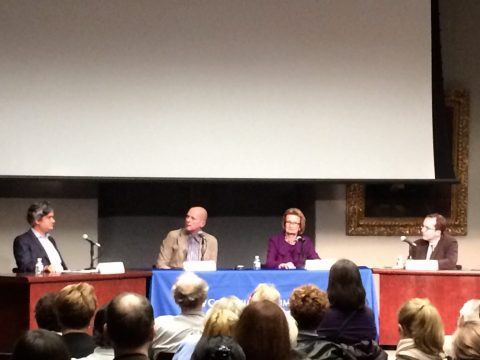 The National Committee recently co-sponsored the screening of a new documentary at Columbia University's Harriman Institute entitled Stalin's Daughter.  The film, directed by German-born filmmaker Jobst Knigge, focused on the life of Svetlana Alliluyeva, the only daughter of Soviet leader Joseph Stalin.
Witness to some of the most important European events of the early to mid-Twentieth Century, Svetlana chose to defect to the United States in 1967 while on a trip to India.  From then on, she moved around the United States and the world frequently until her death in late 2011.  A remarkably controversial figure throughout her life, Mr. Knigge's film highlights global affairs through her eyes and the eyes of those closest to her.
Ms. Grace Kennan Warnecke, Chairman of the Board of the NCAFP, helped to care for Svetlana in the early days following her defection and features prominently as a part of the film.  She, along with Mr. Knigge, and Professors Alex Cooley and Tarik Amar of Columbia's Harriman Institute spoke following the film on Svetlana, the Soviet Union, and their mutual legacy.