13Jun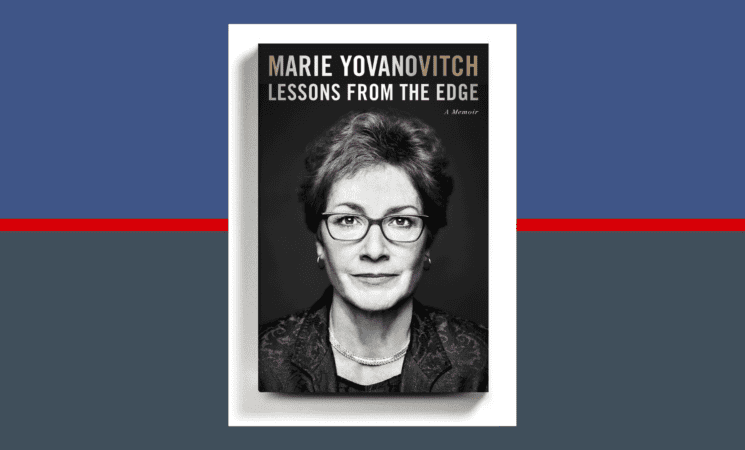 Lessons From The Edge: A Conversation With Amb. Marie Yovanovitch
June 13, 2022 | 6:00PM- 8:00PM
Location: Yale Clube - 50 Vanderbilt Ave, New York, NY 10017
Please join the NCAFP as we host former U.S. Ambassador to Ukraine, Marie Yovanovitch, for an in-person discussion on her recently published memoir, Lessons from the Edge. During the conversation, Ambassador Yovanovitch will outline the strategic opportunities and challenges presented by Russia's invasion of Ukraine and its threat to global peace and stability. To purchase a signed copy of the book, please do so upon registering for the event in the link below.
Marie Yovanovitch is a Senior Fellow at the Carnegie Endowment for International Peace and a non-Resident Fellow at the Institute for the Study of Diplomacy, Georgetown University.  Previously, she served as the U.S. Ambassador to Ukraine (2016-2019), the Republic of Armenia (2008-2011) and the Kyrgyz Republic (2005-2008).  She also served as the Dean of the School of Language Studies at the Foreign Service Institute, U.S. Department of State and as the Deputy Commandant and International Advisor at the Dwight D. Eisenhower School for National Security and Resource Strategy, National Defense University.  Earlier she served as the Principal Deputy Assistant Secretary for the Bureau of European and Eurasian Affairs, where she coordinated policy on European and global security issues.  Before that, she was the bureau's Deputy Assistant Secretary responsible for issues related to the Nordic, Baltic, and Central European countries.
In 2003-2004, Ambassador Yovanovitch was the Senior Advisor to the Under Secretary of State for Political Affairs.  Prior to that, she was the Deputy Chief of Mission of the U.S. Embassy in Kyiv, Ukraine.  Within the Department of State, Ambassador Yovanovitch has worked on the Russia desk, the Office of European Security Affairs, and the Operations Center.  She has also worked overseas at the U.S. Embassies in Moscow, London, Ottawa, and Mogadishu. A Career Member of the Senior Foreign Service, Ambassador Yovanovitch has earned the Senior Foreign Service Performance Award eight times and the State Department's Superior Honor Award on nine occasions.  She is also the recipient of two Presidential Distinguished Service Awards and the Secretary's Diplomacy in Human Rights Award.
Following her retirement in 2020, Ambassador Yovanovitch received the Trainor Award for Excellence in the Conduct of Diplomacy from Georgetown University, the inaugural Richard G. Lugar Award from Indiana University, the 2020 PEN/Benenson Courage Award from Pen/America, the  Morgenthau Award from the Armenian Assembly of America, the American Spirit Award for Distinguished Public Service from the Common Good, and the Paul H. Douglas Award for Ethics in Government.  Ambassador Yovanovitch is a graduate of Princeton University where she earned a BA in History and Russian Studies.  She studied at the Pushkin Institute and received an MS from the National Defense University.
Signed copies of the book will be available for sale at the event. To purchase a signed copy, you may pre-pay for it when registering or purchase it at the event using cash or check.

This event is open to NCAFP Members and the public.  
Please register through the link above or by emailing contact@ncafp.org
Details

Start

Jun 13, 2022 06:00 PM

End

Jun 13, 2022 08:00 PM

Duration

02:00

Event Category
Organizer

Contact Person

contact@ncafp.org
Venue

Address

The Yale Club - 50 Vanderbilt Ave, New York, NY 10017
All Events
---