10Oct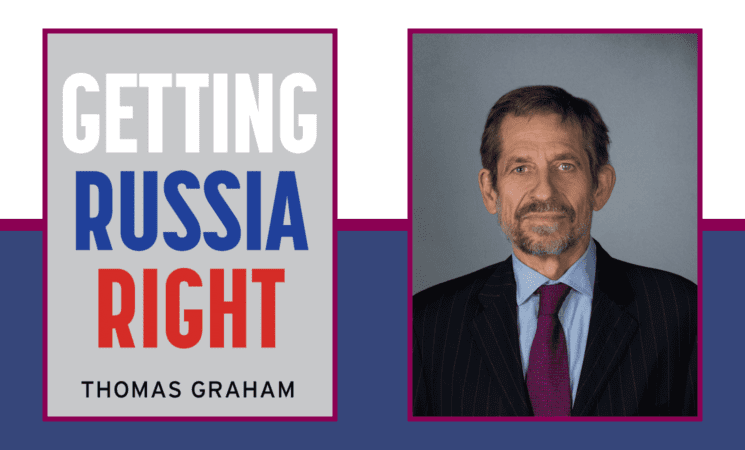 Book Talk: Getting Russia Right, by Thomas Graham
A George D. Schwab Foreign Policy Briefing
Tuesday, October 10, 2023
Registration 5:45 - 6:00 pm
Program 6:00 - 7:00 pm
Reception and book signing 7:00 - 8:00 pm
*The Century Association
7 West 43rd Street
New York City, 10026
*Business casual or business attire required
Featuring
Dr. Thomas E. Graham
Distinguished Fellow, Council on Foreign Relations
Former Senior Director for Russia, National Security Council
In conversation with
Ambassador (ret.) Frank Wisner
International Affairs Advisor, Squire Patton Bogg
Former U.S. Ambassador to Zambia, Egypt, Philippines and India
Opening remarks by
Honorable Jeffrey R. Shafer
Chairman of the Board of Trustees
NCAFP
As U.S.-Russian relations scrape the depths of cold-war antagonism, the promise of partnership that beguiled American administrations during the first post-Soviet decades increasingly appears to have been false from the start.  Why did American leaders persist in pursuing it?  Was there another path that would have produced more constructive relations or better prepared Washington to face the challenge Russia poses today?
With a honed eye from decades of work on Russian affairs, Dr. Thomas Graham deftly traces the evolution of opposing ideas of national purpose that created an inherent tension in relations. Getting Russia Right identifies the blind spots that prevented Washington from seeing Russia as it really is and crafting a policy to advance American interests without provoking an aggressive Russian response. Distilling the Putin factor to reveal the contours of the Russia challenge facing the United States whenever he departs the scene, Graham lays out a compelling way to deal with it so that the United States can continue to advance its interests in a rapidly changing world.
Books can be purchased using the registration link below and will be available for pickup at the program. If you would like to preorder your copy and receive 30% off, visit PolityBooks.com and use AFP30 as your discount code. 

Dr. Thomas E. Graham is a distinguished fellow at the Council on Foreign Relations. He is a cofounder of the Russian, East European, and Eurasian studies program at Yale University and sits on its faculty steering committee. He is also a research fellow at the MacMillan Center at Yale. Graham was special assistant to the president and senior director for Russia on the National Security Council staff from 2004 to 2007, during which he managed a White House-Kremlin strategic dialogue. He was director for Russian affairs on the staff from 2002 to 2004.
A Foreign Service officer for fourteen years, his assignments included two tours of duty at the U.S. Embassy in Moscow in the late Soviet period and in the middle of the 1990's during which Graham served as head of the political internal unit and acting political counselor.  Between tours in Moscow, he worked on Russian and Soviet affairs on the policy planning staff at the U.S. Department of State and as a policy assistant in the office of the Undersecretary of Defense for Policy
Ambassador (ret.) Frank Wisner diplomatic career spans four decades and eight American presidents. He served as ambassador to Zambia, Egypt, the Philippines, and India during his extensive career in the State Department. In addition to his role as ambassador to four countries, he has served as Under Secretary of Defense for Policy and as Under Secretary of State for International Security Affairs.  Wisner was senior Deputy Assistant Secretary for African Affairs from 1982 to 1986, a time of intense diplomatic engagement in Southern Africa.
Wisner joined the President's Interagency Task Force on Indochina, the entity responsible for evacuating and settling nearly 1 million refugees and served as its Deputy Director. He was also appointed as the nation's special representative to the Kosovo Status Talks in 2005 where he played a crucial role in negotiating Kosovo's independence.
Details

Start

Oct 10, 2023 06:00 AM

End

Oct 10, 2023 08:00 AM

Duration

02:00

Event Category
Organizer
All Events
---