NCAFP Emerging Leaders Program:
Next Generation Korea Peninsula Specialists
***APPLICTION IS NOW CLOSED***
Timeline & Key Dates:

Application Submission Period:  March 21 2022 - April 18, 2022
Notification of Acceptance:  May 6, 2022
Virtual Roundtables:  May through October 2022
Completion of Program:  December 2022
The National Committee on American Foreign Policy's (NCAFP) Forum on Asia-Pacific Security (FAPS) is accepting applications from qualified individuals to join an Emerging Leaders workshop and mentorship program focused on security issues in the Indo-Pacific and on the Korean Peninsula. The program is designed to help emerging academics translate their research ideas into policy recommendations, and to develop public communications skills. In addition to peer workshops and skills training, each Emerging Leader will be matched with a mentor from the NCAFP's network of senior-level former policymakers to further inform the development of the final products—a short policy paper and podcast presentation. This program is made possible with the generous support of the Korea Foundation.
The program will consist of eight (8) virtual roundtable discussions (2 of which are optional) with working group peers to workshop their ideas, review papers, and receive short trainings on the art of writing for policy makers and other communications/public speaking skills; and two (2) one-on-one mentor sessions with a senior policy practitioner. Throughout the project, Emerging Leaders will write a policy paper on their topic of interest as well as record a short podcast covering their conclusions and policy recommendations.
We will be selecting ten (10) next-generation scholars and experts from around the world. Applications must include the following:
Resume
Letter of interest
Short bio, no more than 300 words
A well-developed, one-page prospectus of the research topic related to security issues in the Indo-Pacific on which the group member will develop policy recommendations. Preference will be given to topics related to the Korean Peninsula and/or Korea's role in the regional security architecture.
***Incomplete applications will not be reviewed***
Optional additional materials to submit can include:
A letter of recommendation from a peer or professional colleague
A writing sample, no more than 5 pages
Qualifications & Expectations
Preferred applicants are PhD candidates or junior academics with up to 10 years of experience on regional issues within the Indo-Pacific and/or on the Korean Peninsula, who are well-poised to influence the policy planning process in the future. Participants must commit to participating in all required virtual meetings, to take place between May and October 2022 (unless excused by the organizers for unavoidable conflicts).
At the conclusion of the roundtables, Emerging Leaders will write a policy paper for publication in an edited volume, as well as produce a short podcast episode on the paper's topic. Podcasts will be released throughout November and December, followed by publication of the edited volume and launch event in December 2022.
Each participant will receive an honorarium of $1,000 upon completion of all expected responsibilities. This program is made possible with generous support from the Korea Foundation.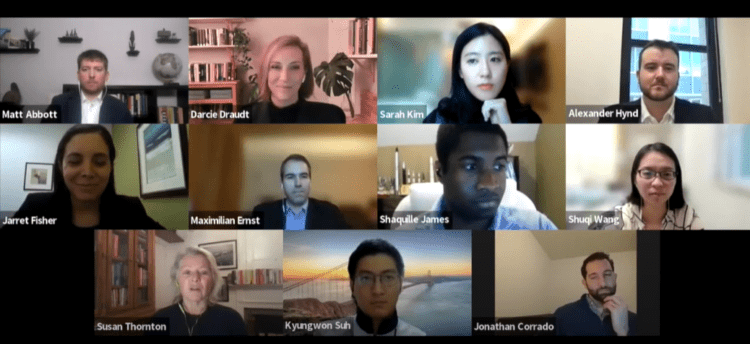 2021 Emerging Leaders cohort Public Webinar Discussion