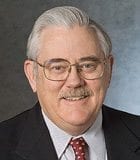 Richard Howe, Esq.
Executive Vice President and Treasurer
Richard R. Howe is Executive Vice President and Treasurer of the National Committee on American Foreign Policy (NCAFP).
Mr. Howe is a lawyer with the firm of Sullivan & Cromwell LLP in New York, specializing in corporate finance, mergers and acquisitions, and financial institutions.  His practice has included many international transactions in which he has represented clients in negotiations with foreign governments, including Liberia, Guinea, Turkey, Jordan, Haiti, China, Australia and Indonesia, as well as other parties.
Mr. Howe was Chair of the New York State Bar Association Business Law Section in 1992-1993, when he was a co-founder of the Soviet-American Banking Law Working Group (SABLAW) which presented a conference on Banking in a Market Economy in Moscow in May 1992.  SABLAW wrote a book on the basics of banking that was translated into Russian, printed by the Russian Central Bank and distributed to law and business schools in Russia.  In 1993, Mr. Howe participated in a similar conference in Mongolia.
Mr. Howe was a participant in the NCAFP's trips to Kazakhstan in 2005 and 2007 as part of its Central Asia/Caspian Sea Basin Project.  He has also participated in NCAFP projects involving U.S.-China relations, Cross-Strait relations, the Korean peninsula and U.S.-Japan relations.
In addition to continuing to practice law, Mr. Howe serves on Bar Association committees dealing with legal opinions, is President and a director of Peoples' Symphony Concerts of New York City and is a member of The Corporation of Yaddo of Saratoga Springs, New York.
Mr. Howe is a graduate of Yale University (B.A., magna cum laude, 1964) and Harvard Law School (J.D., magna cum laude, 1967).