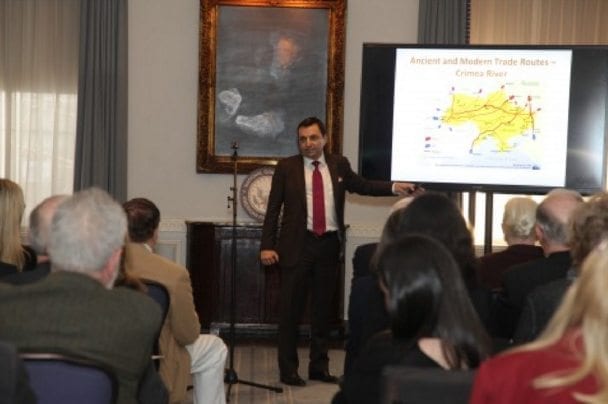 Mr. Murat Köprülü presents A George D. Schwab Foreign Policy Briefing, entitled "Turkey at a Historic Crossroads"
In the fall of 2001, the National Committee received an anonymous endowment that is dedicated to honor the work of Professor George Schwab which led to the creation of the George D. Schwab Foreign Policy Briefings. Speakers at the briefings range from heads of state, foreign ministers, ambassadors, officials of international organizations, and other foreign policy practitioners.
Aaron David Miller delivers the Angier Biddle Duke lecture in 2014, entitled, "Gulliver's Troubles: America in the Middle East"
The Angier Biddle Duke endowment commemorates Ambassador Duke's exemplary leadership of the National Committee and outstanding service to our country. The foreign policy briefings was launched by Ambassador Thomas R. Pickering and speakers in the series include Ambassadors Winston Lord, Richard C. Holbrooke, General Brent Scowcroft, H.R.H. Prince Zeid Ra'ad Zeid Al­Hussein, and Ambassador Frank G. Wisner. 
The Eugenie Fromer endowment is dedicated to the Committee's work on the Middle East, and supports roundtable discussions and public programs.
[tmm_donate sc_id="sc1313990413403"]