The Honorable Jeffrey R. Shafer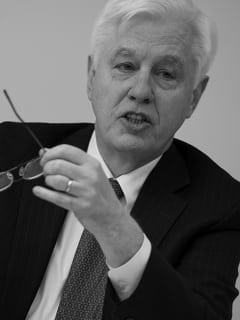 Jeffrey R. Shafer
Chairman of the Board
Jeffrey R. Shafer is Chairman of the Board of Trustees of the National Committee on American Foreign Policy. He is a Member of the Management Board of S&P Global Ratings. He has provided advice on economic and political developments as founder and principal of JRSHAFER INSIGHT since April 2011. He is Chairman of the Board of mCD IP corporation, a fintech startup offering a new deposit product to facilitate banks' meeting post crisis stable
funding requirements.
Previously he was Vice Chairman of Global Banking in Citigroup. He served as Senior Asia Pacific Officer in New York. Prior to this, he established and headed Citi's Economic and Political Strategies Group. Still earlier in his fourteen years with Citi he worked with governments in Asia, Latin America and Europe on financial stabilization, liability management, debt issuance and privatization.
From 1993 to 1997, Mr. Shafer was Assistant Secretary and subsequently Under Secretary of the U.S. Treasury for International Affairs. At the Treasury Department, he focused on strengthening economic growth and financial stability in both developed and developing countries, fostering financial market development and liberalization, and strengthening the IMF and multilateral development banks. He was also responsible for the inter-agency CFIUS process to review foreign investment in the United States.
From 1984 until 1993, Mr. Shafer held a series of high-level positions at the Organization for Economic Cooperation and Development (OECD). Prior to the OECD, he served with the Federal Reserve Bank of New York, the Federal Reserve Board and the Council of Economic Advisors. He served as an officer with the 1st Infantry Division in Vietnam in 1967-68.
Mr. Shafer holds a B.A. in Economics from Princeton University and M.Phil. and Ph.D. degrees in Economics from Yale University. He has taught at Princeton, Columbia, Carnegie Mellon and Yale Universities.
In addition to his role with the NCAFP, he is a Member of the Council on Foreign Relations and of the National Committee on U.S China Relations.